While much of what we do is out in the field, it wouldn't be possible without the design and execution powerhouse of our inside plant service division.
Design. Execution. Logistical Support.
From design and installation to the logistical support that keeps your network running, our team of expert engineers, installers, and technicians is committed to the important details of connecting your equipment to your network.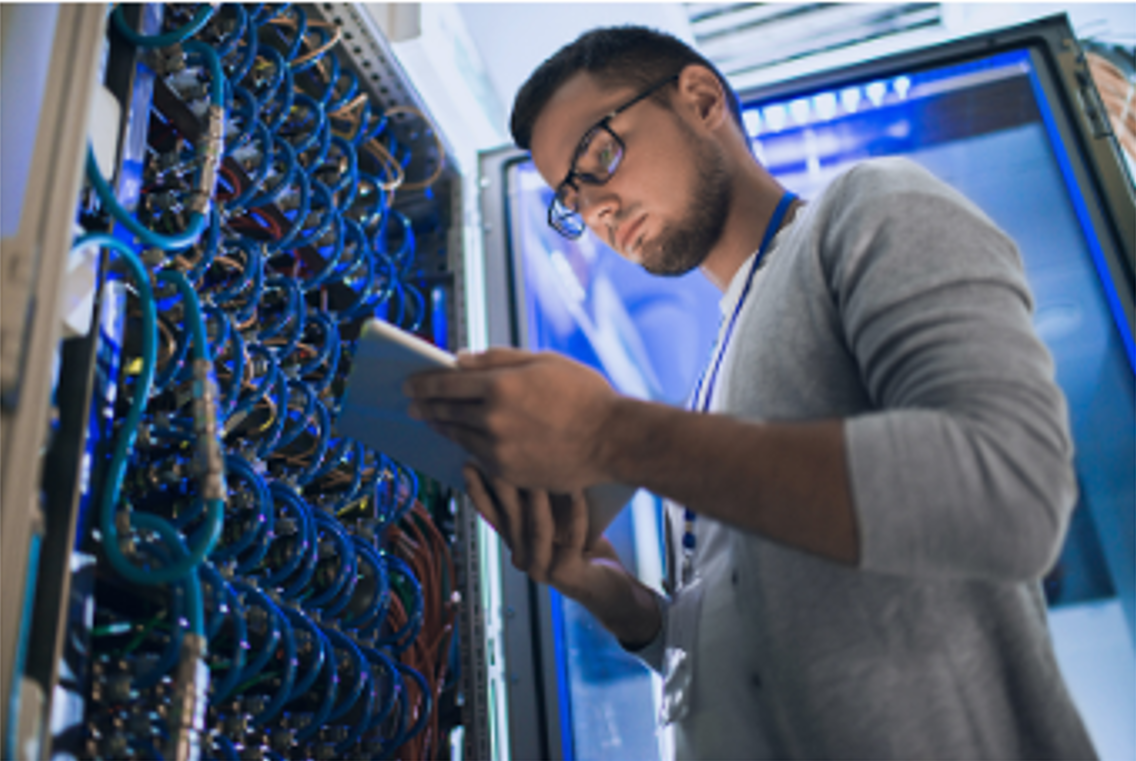 Select a service below to learn more
TurnKey Network Solutions installs complete voice and data cabling solutions with service and support during and after the installation. Commonly referred to as Structured Cabling, these cables connect your computer, phone, wireless access points, security cameras, copiers, etc. to your data and phone network. TurnKey uses high-end quality products, backed by manufacturer warranties, installed to industry standards.
Services include but are not limited to the following:
Design
Whether it is for new construction or within an existing facility, TurnKey can create a structured cabling solution that will meet your voice and data network cabling requirements for today and the future.
Installation
TurnKey's installation team is trained and certified to meet all applicable building codes and manufacturers' specifications to provide the highest quality structured cabling installation.
Testing and Certifications
Installations are tested and certified to manufacturer standards using FLUKE cable analyzers.
Documentation
Labeling of faceplates and patch panels is completed and an as-built drawing is provided documenting the cable locations and pathways.
Regardless of your data center's infrastructure or size, TurnKey offers a complete solution for the build out and expansion of your facility. Our experienced staff can help you design a cage that optimizes space and guarantees ease of access. TurnKey can recommend solutions, such as cable types and expansion panels, which will accommodate flexibility for long-term growth. TurnKey provides advice on cable management and expert installation of cabling infrastructure, including detailed inventory and proper labeling.
Services include but are not limited to the following:
Space Planning and Cage Design
Ladder Racking Layout/Install
Fiber Trays Layout/Install
Documentation and Labeling
Decommissioning and Removal/Disposal
TurnKey Network Solutions is an approved Tier 1 Vendor for AT&T in the five-state Midwest region capable of completing CDOW (Customer Does Own Work) tasks within AT&T Central Offices. Turnkey offers complete Engineering, Furnishing and Installation services, providing our customers with a one-stop solution for managing their Central Office and Collocation Space requirements.
Services include but are not limited to the following:
Engineering
TurnKey's engineering team performs complete site audits, collecting the data necessary to complete a TEO, including but not limited to BDFB power readings, space planning, cable footages and fire hole identification numbers. In instances of a CFA augment, power augments and space augments, TurnKey can submit all required applications (AT&T, Verizon, etc.) on our customer's behalf. We have the experience and expertise in power and HVAC to be able to assist in engineering power plants and any type of environmental concerns that may arise.
Furnish
TurnKey can supply our customers with most equipment brands and we stock many standard materials needed for all types of installation projects, including everything from power lugs, fuses and breakers to H-taps, C-taps and inline splices. Other standard items include overhead superstructure needs like cable rack, aux bar and fiber guide; cable needs such as Power, DS3, DS1, DS0, CAT5, CAT6 and Fiber Optic; and termination points such as LGX, DS3 and DS1 panels DS0 blocks and CAT5 patch panels.
Installation
From a single relay rack, bay or cabinet to building out your entire office from the ground up including all your power needs, TurnKey can handle your installation needs. TurnKey can install, turn up, and test all types of transmission equipment including DWDM, SONET and many other pieces of transmission equipment. Installation of BDFB's, Power bays, Rectifiers and adding AC circuits and providing calculations of proper power cable size and run and the termination of anything from 6 AWG to 500 MCM back to the BDFB.