Design. Install. Document.
TurnKey offers our customers a unique combination of new build expertise, as well as years of network maintenance experience. We understand the requirements of constructing a viable fiber network and appreciate the effort required to protect the investment made by our customers. Whether we are updating a school district's WAN or creating carrier grade backbone and laterals, we possess the knowledge, equipment and systems necessary to complete the work correctly and safely, every time.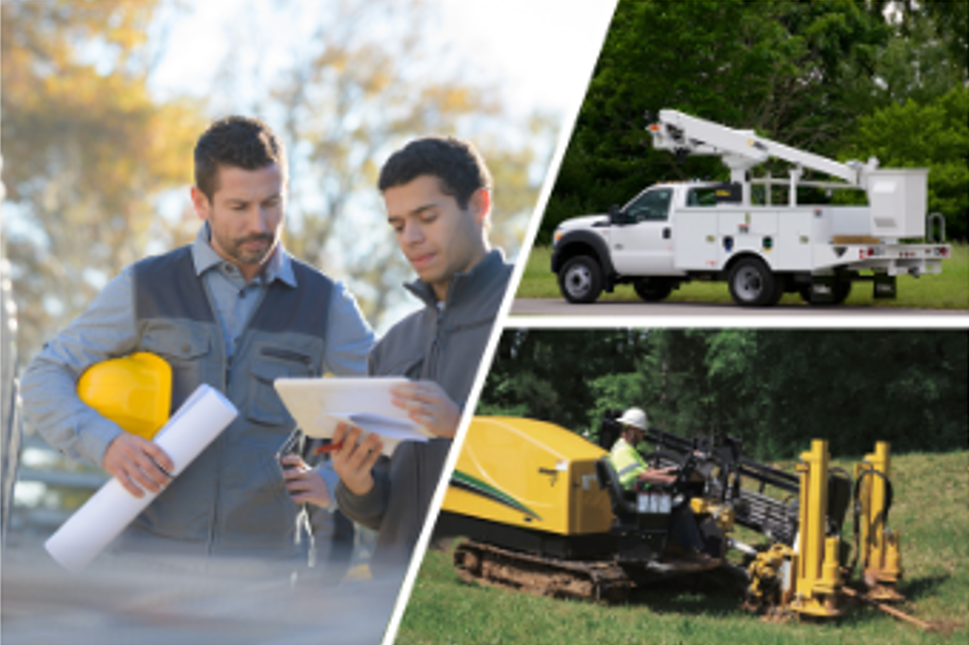 Select a service below to learn more
At TurnKey, we recognize how crucial initial design decisions are to a successful network build. Our engineering staff has extensive experience in all facets of telecommunications outside plant design, specification and permitting. This experience translates into a simplified process for our customers as we are equipped to handle everything from the initial contact with Authorities Having Jurisdiction (AHJ's), right-of-way acquisition/negotiations, detailed engineering data collection, document preparation, permitting and final network documentation.
Services include but are not limited to the following:
Route Selection and Feasibility Studies
Initial contact with Authorities Having Jurisdiction (AHJ's)
Right-of-way acquisition/negotiations
Detailed Geo-referenced aerial and buried design documentation
AutoCAD MAP 3D 2010 to 2019
Permit preparation, submission and acquisition
Network documentation including OSP Insight software
Construction support and inspection services
Equipped with a full array of 34 and 40 foot aerial bucket trucks, TurnKey's skilled aerial division constructs and maintains aerial plant within the communication zone. Our linemen are among the best in the industry, guaranteeing the safe, timely installation and maintenance of our customer's aerial network infrastructure. TurnKey has built our reputation on the high standard of quality you can expect from a full service company.
Services include but are not limited to the following:
Aerial placement of fiber, copper, and coaxial cable
Wreck-out and removal of existing plant
Pole installation, facilities transfers and complete maintenance services
Emergency restorative services
Over-lash and network growth projects
TurnKey possesses a full complement of underground equipment and employs the crews required to address the increasingly demanding requirements of underground utility construction. In particular, directional drilling has become the industry standard for the placement of facilities in todays congested right of ways. TurnKey has the experience to meet the challenging demands of right of way owners and construct our customer's networks in a safe and cost efficient manner.
Services include but are not limited to the following:
Large and small diameter directional boring
Conduit proofing, rodding, and repair
Cable placement and blowing
Waterway crossing construction
Rock trenching, boring, and excavation
Manhole, vault, and cabinet installation
Manhole rehabilitation and restoration
Complete surface restoration including asphalt /concrete removal and replacement
Erosion control, sodding, mulching, and seeding
Emergency and scheduled network restoration
TurnKey does more than lay the foundation of your fiber optic network. Our engineers and technicians design, build and maintain our customer's networks to the highest industry standard. However, no network is complete without the connectivity of high quality fiber optic splicing coupled with accurate testing. TurnKey employs highly trained technicians and utilizes state-of-the-art splicing and testing equipment to insure your system will be prepared to handle the overlaying system electronics.
TurnKey has performed splicing in every type of environment, so our customers can rest assured that whether we are splicing to complete a new installation, or repairing an emergency outage, their network is safe in the hands of TurnKey's technicians.
Services include but are not limited to the following:
Fiber optic fusion splicing & termination services
Network documentation maintenance and fiber assignment engineering
Maintenance services, 'hot cuts' and emergency restoration
Complete fiber optic testing & DWDM characterization including OTDR testing at all industry wavelengths
Optical return loss (ORL), Chromatic mode dispersion (CMD), Polarization mode dispersion (PMD)
Maintaining your network is paramount which is why our staff work to ensure its stability from the day it goes online. In the event of a downed system, our highly trained team of Emergency Service Restoration Crews are available to respond 24 hours a day, seven days a week, 365 days a year. Meanwhile, our engineering team works with municipalities and power companies to help minimize downtime and sustain your productivity. Our commitment to excellence and dedication to your network's reliability assures quality service executed with sharp precision.
Services include but are not limited to the following:
24/7/365 Emergency response of splicing, aerial and underground support crews
Maintenance engineering services including road projects, power company coordination, and other logistics
Scheduled maintenance services such as construction and splicing activities
Buried plant is out of sight and out of mind, thanks to TurnKey's Cable Locating Division. With a focus on ensuring the integrity of your underground network, we provide everything you need to keep your buried cable secure. TurnKey carefully monitors and locates over 29 networks for telecommunication carriers, enterprise customers, municipalities, and school systems.
Services include but are not limited to the following:
Full document maintenance and posting of new routes into the State One-Call system
Electronic receipt and screening of locate requests
State of the art dispatch system
Field marking and flagging of locate requests
24/7 fielding and response to emergency locate requests
Electronic record keeping and month-end reporting